Organizations look to transfer folder operations to the cloud to boost business agility and save costs as data grows exponentially. Legacy issues like size and performance restrictions, and a lack of business file functionality, have held back adoption until now.
Dell Technologies and Google have teamed up to make its Dell PowerScale OneFS file available as a Google Cloud service. Customers can combine OneFS' speed, scale, and enterprise-class capabilities with the costs and flexibility of the Google cloud with this service. With a solution actively administered by Dell Technologies, organizations may quickly and easily set up cloud file shares and begin using them.
Benefits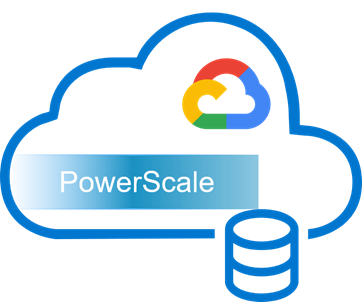 Learn how businesses may use a private, secure Power Scale cluster to access Cloud computation and analytics services with sub-millisecond latency.
Discover how to keep the benefits of Power Scale without making major changes to your apps.
Understand this native cloud solution completely implemented into Cloud Market and combines Power Scale OneFS' performance, efficiency, and security with Google Cloud's flexibility and cost-efficiency.
They are fully managed for easy and quick implementation. Dell Technologies professionals proactively manage the infrastructure, which has more provision and servicing and proactive monitoring 24 hours a day, seven days a week.
Management is simple. No application changes are required, and enterprises can easily handle file shares while monitoring capacity and performance data. Customers establish, expand, and administer shares using the main Google Console rather than a separate interface.
Google Cloud integration is native. It handles service purchasing, billing, and support. Businesses may easily combine Dell PowerScale with the other cloud computing and analytics services.
Features:
Multi-protocol compatibility, namely NFS, SMB, and HDFS, are among the enterprise features.
In a single namespace, scale up to 50 petabytes.
Performance scaling out and millisecond latency
And on Cloud native system files replication
SLAs for enterprise-level availability and performance.
Security. Dedicated systems provide data safety and security.
The economics of the Cloud. Organizations benefit from a variety of cost-cutting features, including:
Pay-as-you-use.
There are no fees for I/O operations.
Dedicated capacity on demand.
Based on performance/capacity tiers, predictable price, and guaranteed performance.
Subscription options are available.
They apply certain charges to Cloud contracted spend.
The PowerShell for Cloud service delivers a sector file system to the cloud, with the performance and scalability these applications require. For these workloads, organizations may take full advantage of the cloud's cost-effectiveness and flexibility, saving money yet making data-driven choices with guaranteed high performance. This approach brings together two industry leaders' innovations:
According to Dell Technologies, dedicated OneFS file systems with excellent performance, scalability, and enterprise features. You can relocate the workloads via native system file replication, eliminating the need for time-consuming and difficult data migration to a Google cloud platform other than the one used on-premises.
A native service that takes advantage of Google Cloud's high-performance computing and GPU instances and its high-bandwidth network. Instead of investing in a data center, businesses can receive a service that they can use when needed and only pay for what they need.
Highlights
The capability to test vs. a 2PB OneFS file highlights the cloud file system's extraordinary scalability. Performance scales with size, and Dell PowerScale for Google Cloud presently supports file systems with a size of up to 50PB. It has a lot of room to grow.
With a peak of 200GB/sec collective reading performance and 120GB/sec collective write performance against a 2PB storage capacity, IOzone aggregate throughput measurements revealed high performance scaling as the workload rose.
A simulated genomic standard, Scratch DNA yielded a peak cumulative write rate of 110 GB/sec.
These results outperformed a competitor's NAS using Google Cloud, with a 500x max capability, 46x read performance, and 96x write bandwidth.
These are outstanding outcomes for a single cloud NFS file system. ESG believes that scaling OneFS to a bigger capacity might yield even better results. These benchmarks show that this solution can handle massive file workloads. This includes analytics, multimedia, seismic data processing, IoT, genomics, and more, with great performance and scalability.
As always, enterprises should examine their data to determine the best methodology for delivering the speed, agility, and cost that each job requires. Dell Technologies Cloud Power Scale on Google Cloud is expected to add an interesting option for huge file workloads that require high performance, flexibility, and cost-efficiency, according to ESG.
Dell PowerScale for Google Cloud can be used to accomplish any of the following:
With access to approximately 50 PiB per namespace, run machine learning algorithm over high-resolution data for improved model accuracy.
With on-demand computation and storage resources, you may speed up genomic analysis research and reduce expenses for any project size.
User can conduct big-data analysis. The Hadoop Distributed System layer is natively integrated with PowerScale storage, making it the first scalable NAS platform.