An enclosed system has two or more servers working in a collaboration that may or may not share the same power supply.
Computing has a critical part to play in today's technological achievements. Intel has been a catalyst in global computing, and its latest innovation in multinode server systems has opened new possibilities to handle and solve complex and intense workloads.
The latest multi-node servers by intel are more secure and powerful, and the processors are known to outperform other competitors. Seamless networking can be expected with low latency and improved RAM and storage, and these servers can surely be relied upon. Let's have a look at the available models:
1. Intel® Server System D50TNP Family: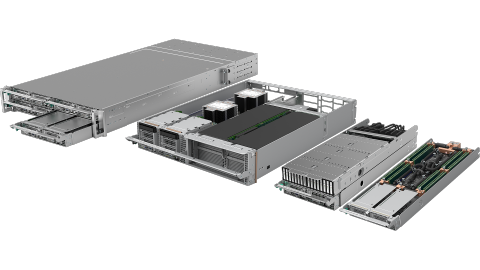 This multi-node server system claims limitless AI possibilities and promises a flexible yet powerful HPC platform. Intel assures versatility with this device and its performance and capacity, which are extraordinary. This system has four modules specifically to manage, store, compute and accelerate, making it a heavily reliable machine system. 3rd Gen Intel Xeon scalable processors deliver the processing power. These processors are had more than 40% improved performance than their previous generation. This ensures they stand true to their claims. These systems can be further amplified with up to 4 PCIe accretor cards of 300W each. The storage has been made super-efficient and can store up to 1PB of data in a chassis box of a single 2U.
2. Intel® Server System D40AMP Family
These server systems have the most recent data center technology by intel inside it, which comes optimized, so it works in tandem with the system. This model of system servers uses data center technology to reduce the complexity of the intensive process. This is a tremendous help in tackling the demands of current data workloads. This system server is powered by the innovative 3rd gen processor of the Intel Xeon Scalable series. These are dual-socket systems boosted by Intel Optane memory which is much better than the average DRAMs. These systems have improved airflow because of a new design, and no compromises for the CPU performance have been made. The 4th generation PCIe helps you move data rapidly across nodes. These systems are certified to be used for HCL solutions. These are also very efficient when it comes to deployments of hybrid or private cloud systems.
3. Intel® Server System S9200WK 
These server systems come in handy for applications using Artificial Intelligence and computing demanding high performance. These systems are regarded as blocks of the data center that are purpose-built to deliver high performance. These come with intel's processors having the highest core count, the Intel Xeon Platinum series of processors, second generation. These systems can host up to twelve memory sticks per CPU, and up to twenty-four sticks can power every commute model. Unlike other systems, these come empowered with the deep learning abilities from Intel. These are particularly helpful in data analytics. If the workload requires more power, these systems can be enhanced with their multi-chip advantage. The single-chassis system can hold more than one compute module. High-performance workloads require around 350W to 400W TDP depending upon the liquid-cooled or non-liquid cool versions.
4. Intel® Server System S2600BPR Family Server System 
These are rack-optimized systems whose servers are best used for storage, data analytics, and hyper-converged HPC applications. The systems are powered by a 2nd Generation Intel® Xeon® Scalable processor with additional drop-in compatibility. The system supports Intel® Optane™ DC memory which is heavily persistent. This memory can reach a speed of 2933 MT/s. The systems also have instructions for vector neural networks, and this is because of the deep learning support from Intel. These systems help in packet filtering and faster switching and help eliminate the overhead of TCP/IP with its RDMA and integrated ethernet supporting 10G bandwidth. It helps in offloading to NIC the transport. These systems are also adept at handling critical workloads—functions of pubic key, authentication, and decompression. Compression is achieved using Intel® QuickAssist Technology, which is well integrated and is crucial to relieving the CPU of unnecessary cycles. To tackle the issue of latency in large or medium clusters, Intel has integrated Intel® Omni-Path Architecture, which helps deliver up to 100Gbps bandwidth. These systems are helpful if you require Real-time computing. These systems are particularly designed to favor cloud infrastructure.
While deciding on which server would serve you best, it is best to be clear about your expectations and demands. A little internet research may go a long way to help you understand your requirement. Taking the longer picture in view is also suggested as this system becomes an important catalyst in everyone's growth.